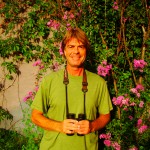 The Patagonia Birding & Butterfly Co. is a small, local, bird and butterfly tour company based in Patagonia, Arizona and owned and operated by Matt Brown, Patagonia resident since 1998. Matt has taken hundreds of birders, butterfliers, and nature lovers into the wilds of southern Arizona over the years, either searching for "target" species or Arizona "specialties", or just attempting to rack up as many interesting things as we can find while exploring the gorgeous borderland back-country.
Tours are arranged on an hourly basis, with tour length entirely up to the client. Fees are determined by the length of the tour and the number of participants, with a "base rate" of $25/hour for one person. Prices increase by $5/hour with each additional participant, since the leader's job gets harder with more people participating. A $5/hour discount goes into effect after the sixth hour. If we ride in the company vehicle, a 1995 Toyota 4Runner, a mileage fee will be added on, but if we ride in yours, there won't be (obviously).
There is always a 'scope available to bring stuff in closer, and I always have field guides, water, and snack-type food items with me. Extra binoculars can be arranged if you don't have any with you.